New Technology Enhances Campus Security
UConn has installed a new technology that can detect gunshots and explosions, notify campus police, map a shooter's location, and send a live video feed to officers' cellphones or handheld computers in less than two seconds.
The cutting-edge technology, donated by the UConn alumnus who developed it, is intended to help police respond more quickly in case of a shooting.
The University has not had a problem with shooters, but recognized that the donation could enhance campus security.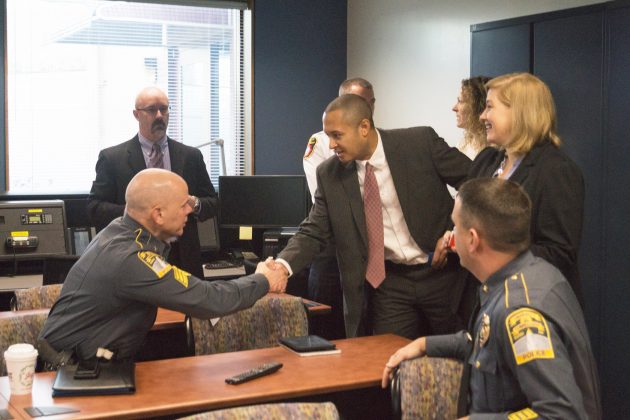 "We're using it to be very proactive," says Hans Rhynhart, UConn's interim director of public safety and chief of police. "This is a great opportunity to test a brand new system that has the potential to be really useful to our community."
The integrated system, developed by New Haven-based security company Verbi Inc., immediately alerts police, as opposed to someone having to call in to report it. "The sooner the police can get there and stop the shooter," adds Rhynhart, "the sooner they can stop the violence."
The system, which has been installed on a pilot basis in a select location, is capable of detecting gunshots or explosions indoors within a 250-yard range. It can notify officers in a variety of ways, including text messages, iPad notifications, and text to speech automated phone calls.
When officers receive a notification, they then click to access the camera in the affected zone and receive a live feed of what's happening there. "It gives them better decision-making information that they didn't have before," says Robert Hotaling '01 (ENG), who donated the system.
Verbi's representatives say that UConn is one of the first universities in the country to have gunshot detection technology linked to mobile devices.
The system is also capable of sending alerts to students, faculty, and UConn employees with the same fast turnaround time.
UConn agreed to pilot the technology after Hotaling, the president and CEO of Verbi, offered to donate the equipment. The gift, which includes the gunshot detector, two servers, and video cameras, is valued at $175,000.
The Verbi system can be integrated with all the University's video surveillance cameras around campus, and can be used to remotely activate video cameras to check out a fire alarm, a medical emergency, or other incident.
The military-grade gunshot detection device uses artificial intelligence to pick up only gunshot and explosion sounds.
Hotaling, who majored in electrical engineering at UConn, developed the mobile-first piece of the system in reaction to the mass shooting at the Sandy Hook Elementary School in Newtown, Conn.
"This can impact students' lives," he says, "by making them safer during a threat."
More information about Verbi Security may be found at www.verbiinc.com.